MEI Hockey Academy
Program Overview
Home » Programs » Athletics » MEI Hockey Academy » Program Overview
The Program
The MEI Hockey Academy intends to provide high performance training and Christian values-based character development to participating athletes. The academy has an overall purpose of developing young people so they will be well prepared to meet the most significant challenges of school, athletics and post-secondary life.
The MEI Hockey Academy will provide student-athletes from MEI Schools with the opportunity to develop their athletic abilities, shape their character and pursue academic excellence. The program will focus on skill development through high levels of individual participation within a cooperative, collaborative framework. Our goal is to complement existing hockey organizations by creating a positive learning environment that promotes and enhances skill development.
Hockey Hall of Fame
The MEI Hockey Academy is committed to producing high-quality hockey players as well as players with good character.  Many hockey alumni have gone on to star in high-level hockey leagues throughout Canada and the USA.  The Hockey Academy also hands out many awards in their yearly trophy case and keeps records on various skills including shooting, skating, agility and reactions. Three times a year the players are tested using the Sport Testing Digital Equipment for exact results and data that helps players see improvements and helps them know where they stand so that they can work specifically on certain weaker skill sets. These scores help determine the MEI "all time record holders" for each tested area. These stats are displayed on the website under "Record Holders" and at the rink.
Assessment and Evaluation
Students will be evaluated each term on their on-ice and off-ice performance. This will include their skill development, attitude and effort. A separate evaluation will be included with each student's report card showing their testing results.
Each student's hockey skills will be evaluated at the beginning of the program and will include student's strengths and weaknesses in regards to each hockey skill. Assessment and evaluation of student performance on and off the ice will occur throughout the year.
Grades 9-12: 4 Credit Class
Grades will be represented on four formal reports based on student performance throughout the year. Marks for the course will be based on a daily effort, skill development & attitude which will be recorded during the sessions. This will be included during all class sessions including 2 ice times, 1 Apollo Athletic Club, and 1 weight room per week. This mark will be included on the students academic report card.
MEI Hockey Curriculum
The MEI Hockey Academy Curriculum is based around both on ice and off ice components. MEI uniquely has a grade 1-12 curriculum which tracks each player's progress through statistical testing results and the progress as they improve. The MEI curriculum has a large emphasis on individual hockey skill improvement but also has a equally important off ice component that is both hockey specific dryland which is age specific and character building through spiritual transformation. At MEI we believe the players are getting the entire package to graduate with excellent hockey skill training but also becoming the best person that they can be as they get the life skills of Integrity, Respect, and an appreciation to serve.
Student responsibilities while in the MEI Hockey Academy
Attend full-time at MEI or have special permission as a Non-MEI Player
Commit to academic responsibilities
Maintain excellent attendance
Be a responsible citizen within the school and community
Demonstrate a high level of commitment to the outcomes of the program
Work in a spirit of cooperation
Students need to keep in mind that to be part of this program is a privilege for all and as such, best behavior should be modeled at all times at school, in transit, at Center Ice and the community. Reinforcement of this basic principle will be adhered to at all times. It is the key to the success and continuation of this program.
At School
Being responsible for your academics, behavior and time management will ensure a successful year.
To be an ambassador for the MEI Hockey Skills Academy outside of the rink.
Personal accountability and leadership demonstrated by each individual in all situations.
In Transit
The bus will leave the school on schedule according to when the on-ice session occurs within the timetable. Be punctual! Being late will mean non-attendance at Center Ice for the class and therefore to stay at school and report to the administration.
On the bus, follow the bus driver's rules and expectations. We will not tolerate poor choices.
Unloading/loading of the bus – do this quickly and efficiently.
At Center Ice
Students will go from the bus directly to their locker and then to their assigned dressing room. Students would then start preparing for their session within their room
Be punctual and ready to go for class on time (on/off ice)
Students getting picked up by their parent/guardians after an on-ice morning session will be required to produce a written, and signed, note by their parent/guardian. Otherwise they will be expected to ride the bus back to the school.
Dressing Rooms
Proper dressing room protocol is essential before, during and after class. Failure to comply will not be tolerated. Students are expected to act responsibility.
The dressing room should be left, as it was when you arrived. Nothing is to be left on the floor of the dressing room after practice (ie. Food wrappers, water bottles, tape, etc.).
Proper language must be adhered to as this is considered a "classroom".
Students will be assigned dressing rooms. Dressing room assignments will change throughout the year.
Male and female students will change in separate dressing rooms.
Dressing rooms will be locked during on-ice sessions
We will designate a FEMALE MOM to monitor the girls dressing rooms and to help out with anything needed with the female players.
Additional Items
Students are expected to attend all on-ice, off-ice (gym) and classroom sessions and to be on time.
Students are expected to be prepared with all necessary equipment for each class.
Due to our tight travel/ice time schedule all students must be able to be fully dressed and undressed in 15 minutes or less.
The cost of any personal hockey equipment and gear is the responsibility of the student and their family.
Students are expected to participate to the best of their ability.
Students must be respectful of instructors at all times.
Should students be unable to attend an on-ice session they are required to have their parent / guardians inform the teacher by providing a note or e-mail.
Students are expected to treat everyone fairly regardless of gender, place of origin, colour, religion or economic status.
Students are to consistently display high personal standards and project a favorable image of their sport and school.
Refrain from public criticism of athletes, coaches or volunteers
Refrain from the use of profane, insulting, harassing or otherwise offensive language.
Students will participate in all Academy testing and satisfy all course program-testing objectives.
Older Students are required to bring a towel, soap and shampoo, as they will be expected to shower after every on-ice session.
Center Ice and MEI will not be held responsible for any lost or stolen gear or student belongings.
Please Note:
All students must provide their own set of full equipment.
The intention is not to make up teams and play hockey games.
The purpose is for individual skill development (i.e. additional practice). However, it will be FUN as mini games and other competitions are part of the program.
Admission to the MEI Hockey Academy is dependent upon the applicant also being accepted into MEI Schools and paying the regular MEI tuition appropriate to thestudent's grade. This acceptance will involve completion of MEI's normal application procedures found online at experienceMEI.com and an interview between the prospective student, a parent/guardian, and an MEI administrator or staff member at the high school level.
Intro to Hockey: GRADES 1-3 (Beginner Skills)
This is our youngest group of players that are fairly new to hockey. This group is based on teaching the basic foundations in all skills with a specific focus on power skating. The main philosophy is sweat and smiles as we try to make all ice times fun with high repetitions for quicker development. Grade 3 players who are ready and have developed will be asked to move up to the Elementary program.
Elementary: GRADES 3-5 (Atom Age 8-10)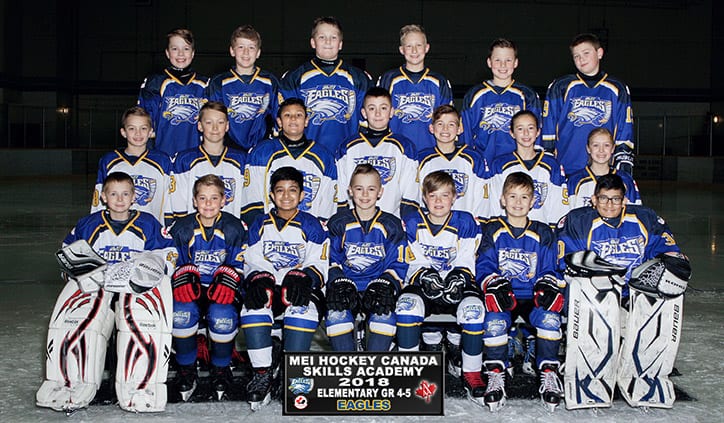 This is our Atom/Peewee age group that is going to be meeting on the ice two times a week while gathering as a sports group for Character Building and Spiritual Transformation within the school day. Floor Hockey will also be part of this time period along with the basics of shooting, passing and stickhandling drills (Wed @ Lunch in Gym). They will all be taking part in all sports through the Physical Education curriculum. While on the ice players will be working on all skills at an even percentage each ice time as there will be station work and goalie specific training. Each ice time will have a structure where the coaches will Model the skill, help the players do the skill, and then watch the players do the skill on their own through game simulation drills recommended by Hockey Canada that represents the ability for intense movement under high repetition. To end each ice time players will have loads of FUN playing in mini games using the skills they learned that day. Atoms will transition into the peewee level with drills that will begin to challenge them.
Middle School: GRADES 6-8 (Peewee Age 10-12)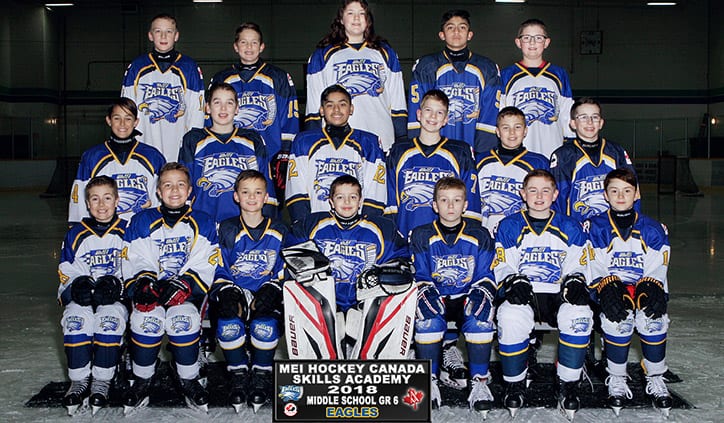 This is our Peewee age group that is going to be meeting on the ice two times a week while gathering as a sports group for Character Building and Spiritual Transformation within the school day.
On Ice: based around the age specific on ice curriculum set out by Hockey Canada the Peewee players will be expected to perform all the hockey skills at an above average level. These players will be challenged under intense but high repetition skill training. The main skills will be worked on in a skills unit format as we begin to concentrate more on the skill specifics while covering all aspects of the skill. We will also begin to introduce how the skill relates to the basic position of the player with Forward/Defense/Goalie situations. Units on Checking and Hitting will be taught along with a small percentage of system basics.
Off Ice: This group will be the youngest age where we will start to introduce dryland hockey specific movement training called SAQ (speed, agility, quickness) under the ABC (Agility, balance, co-ordination) concept. With a dryland that builds the players Character as well as the hockey specific training these players will get a great mix in the off ice training to build the complete player. Nutrition and Mental strategizing will be tailored to their age level.
High School: GRADES 9-12 (Midget Age 15-17)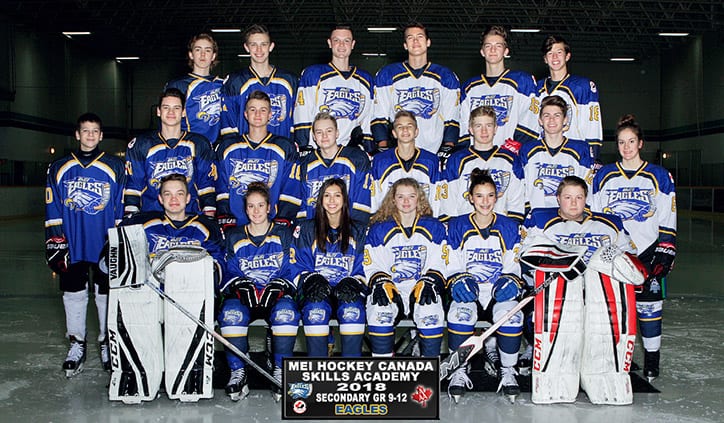 4 Credit 2nd Semester in School Calendar Secondary P.E. Class – Block 4
1. Movement (P.E. Curriculum)
On Ice Skill Training: This component implements the Hockey Canada Skills Academy Curriculum as outlined from Hockey Canada. MEI Hockey follows the skills and drills that help players improve at the advanced Midget level for skating, shooting, passing, stick-handling, checking, game play, position specific play, and small area competitive skill games.
2. Active Living (P.E. Curriculum)
Off Ice Training: This component will be based at Bolt Fitness two times per week. Students will be working out at the Bolt Fitness for strength and conditioning. Students will be weight training and given hockey specific work-outs while also designing personal routines based on athletic needs.
3. Complete Health & Well Being (P.E. Curriculum)
Classroom / Theory (P.E. Curriculum): This component is based in the classroom with students exploring, researching and discussing important topics regarding their health and well being. Students will be responsible to cover the P.E. curriculum and complete assignments and projects to show their learning to complete the class and get their P.E. credits.
Mental Health
Healthy Choices
Sports Psychology
Spiritual Transformation and Character building
Community service – giving back by helping coach the younger groups
Mental training strategies that will help students perform to their best every day
Leadership Development
Game preparation, communication skills, goal setting
Sports Nutrition